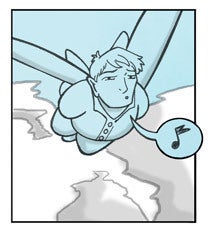 $

3.00
A non-canon 9-page story involving one of the ghosts of the soldiers from the Battle of the Osage. You know, the one with a... hrmm..... passion for shoes that's been burning for over a hundred and fifty years...
And a bunny. A very naughty bunny.
The story comes with a coupon for $3 off the future Speedy plush toy.
Artwork is from 2009-2010. The file should be available for automatic download from your email inbox after payment is received. The PDF file is best viewed at 285% resolution.