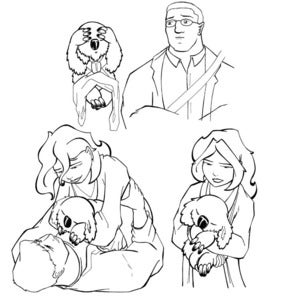 $

7.00 - On Sale
You are purchasing original art used in Chapters 6, 7, and 8 of the comic. Mostly chapters 7 and 8, as 6 is all but gone.
When drawing, I use standard 9x12 Bristol board and cover both sides of it with sketches. Most of these are inked directly on the board; some are left in pencil and inked in Photoshop. The art is then repositioned in Photoshop and stray lines or (some) anatomy fails are cleaned up before coloring. These irregularities are in the original art.
This is a grab bag so the art you will receive is random. It's possible that you will get as few as two individual illustrations or as many as twelve per board.